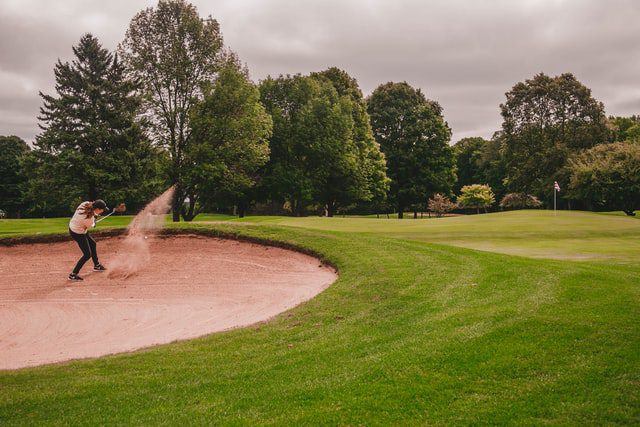 Course Overview
Turner Highlands Golf Course is not an overly long course that puts a premium on keeping the ball in play. Out of bounds can be found bordering several holes due to private property and this creates many demanding tee shots. If you can get your tee shots in the fairway, you are rewarded by having mostly short irons into greens that are not overly complicated in nature. However, the greens can play lightning quick and most puts do require that you pay attention to pace first. We have some very unique Par-3s that require a great combination of skill and shot-making.
Holes 1-6
Number 1 – A great starting hole that is not too stressful. A good tee shot will leave you inside 100 yards to an elevated green that can be deceptively hard to hit. The ideal approach angle is from the center-right side of the fairway. 
Number 2 – A great scoring opportunity here. A true dog-leg Par 5 that presents risk/reward opportunities. A tee shot straight away will leave you with a 3-Wood or long iron into a narrow green protected by slopes and a bunker. Or you can cut the corner with your tee shot – leaving a short iron into the green. Be careful of OB right. 
Number 3 – A great little Par-4 that looks simple as your tee shot does not need to be long. This will leave you 120 yards or less into a green that is well protected by bunkers both short and right. Once you are on, it is the most flat green on the course. 
Number 4 – This Par-3 is a good test for what's to come. A hole that will either play shorter or longer than the yardage, depending on the wind. Take note of where to 'miss' as anything right or long will almost guarantee a bogey as the green slopes severely from back/right to front/left. 
Number 5 – Our signature hole! No matter which tee you are playing, there is a forced carry over water to a landing area that is roughly 60 yards long. Once you are in the elevated fairway, a sheer drop off helps set the stage for approaching a pedestal green that is protected on two sides by hazard and will play shorter than it measures. 
Number 6 – The most demanding tee shot of the day. OB left and a left-to-right sloped fairway makes this a difficult tee shot for all players. Being a short Par-5, you don't need to be too aggressive off the tee – placing focus on hitting the left-center of the fairway. An uphill approach to a narrow green that slopes left-to-right means you want to miss short or right to have a chance getting up and down for birdie. 
Holes 7-12
Number 7 – Now that you're out of the woods, feel free to swing the driver here – aiming down the left-center if you are long off the tee as there is water right. Approaching from the right side is ideal into this well protected green. 
Number 8 – A tricky Par-3 here that plays around 200 yards for White and Yellow tee players. Spruce trees left of the green make it very tricky if you miss left and OB is present if you miss way right. The green slopes from front-right to back-left which can make chipping on tough. 
Number 9 – A fun hole to end your first 9-Holes that plays downhill from all tees. A tee shot down the right side gives you the best approach to a green that slopes slightly left to right. Be sure to mind the downhill slopes and bunkers that protect the green. 
Number 10 – A fun, downhill Par-3 that will play 15-20 yards shorter than the scorecard says, depending on the wind. Be careful not to miss long or right as this green slopes back-to-front. 
Number 11 – A tough Par-4 that will play long as you go uphill. Depending on where your tee shot leaves you, the green may not be visible and it's a good idea to go up the fairway to visualize your approach. A fairly flat green presents a good scoring chance if you are able to land your approach on. 
Number 12 – A dog-leg right Par-4 that doesn't require too much off the tee unless you want to cut the corner. *Please note that tee shots right of the big tree off the tee are illegal and considered OB*. The most severely sloped green on the course can be a real challenge, depending on pin placement. Misses left, right, or long create very difficult chipping situations. 
Holes 13-18
Number 13 – A tough hole here that demands length off the tee and will leave you with your longest Par-4 approach. A blind shot into a narrow green adds to the difficulty. The green is sneaky difficult and requires that you pay attention to even the shortest tap-ins. 
Number 14 – The longest hole on the course that requires two strong shots to put yourself in position. A tee shot down the left-center will give you the best angle to set up your approach into a 3-tiered green that can be very tricky to navigate. 
Number 15 – Now the shortest hole. A fun Par-3 that will require only a short iron for all players. The green is protected by mounds and bunkers and has various slopes. A great chance at birdie after a difficult two-hole stretch!
Number 16 – This Par-4 features a landing zone that narrows the further down the fairway you go. Finding the right side is key as you approach the most well protected green on the course. It slopes from back-to-front and aiming for the largest part is encouraged.
Number 17 – A picturesque elevated tee introduces what can be an intimidating tee shot for White tee players. OB right and water left demand accuracy off the tee. The reward is hitting into the largest green on the course that presents a good scoring opportunity. 
Number 18 – A unique finishing hole! This elevated Par-3 will play longer than you think and is protected by two sand traps. Ensuring your tee shot clears the hill is key and gives a much better chance to end your round on a par!

Hours of Operation
Spring Hours: 8am – 5pm
Summer Hours: 7am – 5pm